There is some math involved in daniel's Geochronology paper and I wanted to see for myself if it does indeed check out. In the following I will present my results. But before doing that, there are some points I want to go through.
First off
, I didn't find any list for the Long Count on the Internet, only generators, so I made my own spreadsheet – which ended up being almost 100 mb! No wonder I didn't find anything... I like it better reading off a list than having to rely on some generator. Though it turns out they do just fine. Here are two extracts of my spreadsheet:
Second
, my calculations were done with decimal digits to the
hundredth
, always rounded
up
to the next ordinal number. This still leaves a margin of error of 0-4 days but saves the tedious read of four digits after the decimal point. So for example the end date Dec 21st, 2012 would be 2011.98 (=355/365) and the alternative end date Dec 23rd, 2012 would also be 2011.98 (=357/365).
Third
, I calculated with 365.25 days per year (=Julian Calendar) and forgot that our year actually has 365.2425 days on average (=Gregorian Calendar). I'm too lazy to change all of my results now, especially since a deviation of a single month or less is not really relevant in the greater picture of several thousand years. And it is not a deviation per se, just a different calendar system. You can always just convert any given date into its Gregorian equivalent. There are generators for that.
(edit: The Hebrew chronology gives you Julian Dates anyway, so my mishap is actually good for comparison!)
Fourth
, and this is going to be a long one, I wanted to know where the date 3114 BCE stems from which is considered to be the start of the Long Count. It seems like everybody on the internet is regurgitating it but nobody knows jack on how it came to be. So here is what I found: There are a number of different correlation constants that have been calculated over the years (see chart below), the most commonly accepted being the Goodman-Martinez-Thompson correlation (GMT).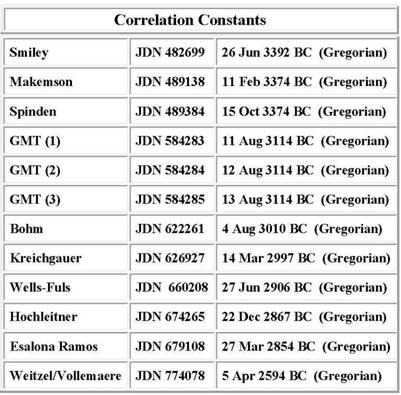 (Chart taken from http://mayan-calendar.com/ancient_correlation.html)
Here is the calculation for the GMT correlation constant:
Simon Martin and Joel Skidmore wrote:[...] with the result that the Goodman-Martínez-Thompson correlation has been almost universally accepted and corroborated to a significant extent by radiocarbon dating.

2

[...]

The two most widely accepted correlations are 584285 and 584283. These numbers are "correlation constants" that express the base date of the Maya calendar as its Julian Day Number. The system of assigning a Julian Day Number to every day that has elapsed since January 1, 4713 bce, is used by astronomers to record celestial events.

3

Thus the Maya base date of 13.0.0.0.0 4 Ajaw 8 Kumk'u is Julian Day Number 584285 in one of the popular correlations—that is,

it fell 584,285 days after January 1, 4713

. As we shall see, it is not necessary to understand or even use Julian Day Numbers in the correlation, but it is customary.

Thompson (1927, 1935, 1950) arrived at 584285 by means of a line of reasoning initiated by Goodman (1905) and revived by Martínez Hernández (1926). This begins with a proposition derived from Colonial-era Maya chronicles and Diego de Landa's

Relación de las cosas de Yucatán

, that the Maya date 11.16.0.0.0 13 Ajaw 7 Xul fell in the year 1539 ce. Added to this was the fact that Landa had recorded that 12 K'an 1 Pop (New Year's Day in the Colonial Maya calendar) coincided with July 16 in his own, with that date apparently falling in 1553.

Since 13 Ajaw 7 Xul and 12 K'an 1 Pop were deemed "impossible" dates in the Classic-period Maya calendar, Thompson (1935) began by assuming that at some point after the Classic there had been a "break of a day" and that the Landa date expressed in the Classic system would be 12 K'an 2 Pop. We will return to this point later. By following the regular pattern of the Maya Calendar Round and counting the days between the "corrected" 11.16.0.0.0 13 Ajaw 8 Xul and the subsequent 12 K'an 2 Pop, one arrives at a Long Count date of 11.16.13.16.4 (the Long Count had fallen out of use, but like Thompson we retain it for calculation purposes).

A Long Count date is similar to a Julian Day Number in that both record the number of days elapsed from a base date. The Long Count 11.16.13.16.4 records what has been termed a "Maya Day Number" of 1,704,204 days since 13.0.0.0.0 4 Ajaw 8 Kumk'u, as follows:

11 Bak'tuns = 1,584,000 days

16 K'atuns = 115,000 days

13 Tuns = 4,680 days

16 Winals = 320 days

4 K'ins = 4 days

1,704,204 days

Given that the Julian Day Number for July 16, 1553, is 2288488, Thompson's initial calculation arrived at the following result:

2288488 Julian Day Number

- 1704204 Maya Day Number

584284

Accounting for the "break of a day" brought Thompson to 584285.

2 On the basis of Colonial-era ethnohistorical documents, Bricker and Bricker (2011:79-87) make a compelling case for its correctness.
3 Because astronomers employ a year "zero," the base date is also written as January 1, -4712. Note that the Julian Day Number system of astronomical reckoning is not to be confused with the Julian calendar, which preceded the Gregorian calendar that we currently use. Source: http://www.mesoweb.com/pari/publication ... lation.pdf
The pdf has 14 pages of which only the first two are relevant for this post, with the most relevant parts quoted above. The next 12 pages discuss the 1-or-2-days-deviation but that shall not be the issue here, so let's just take those blue numbers above and see if we can get to the often reported year 3114 BCE.
584285 / 365.25 = 1599.69
-4713.00 + 1599.69 = -3113.3149
To calculate the exact day: 0.3149*365 = 114.94 Now we need to count
back
(because we are dealing with a date BCE, before common era) -31 (Dec) -30 (Nov) -31 (Oct) -22 (Sept) = 0.94, i.e. Sept 8th in -3113
(astronomical)
or Sept 8th, 3114 BCE
(Julian)
or
Aug 13th, 3114 BCE
(Gregorian)
c.f. chart above or the article European Dates (well worth a read, "[...] since-contrary to popular belief-the so-called European calendar is far more complicated than that of the Maya."
)
Note: Romans didn't know 0, so their calendar goes back from 1 CE to 1 BCE in only one year, not in two. The astronomical calculation includes zero, so Year 0

(astronomical)

is 1 BCE

(historical)
.
Now to the end date:
Looking at my spreadsheet, one Baktun is 144,000 days, so with 13 Baktuns (remember 13 is an end date) that makes 1,872,000 days in total. Divide that by 365.25 and you get 5125.26 years.
-3113.31 + 5125.26 = 2011.95
More accurately 2011.94182 which is Dec 10th, 2012
(Julian)
and
Dec 23rd, 2012
(Gregorian)
, at least that's what I calculated when using the Julian Day Number 584285 as a premise.
-----------------------------------------------------------------
With that all said, let's get to the paper:
Geochronology, p. 4-5 wrote:When man was created, there were only 260 days in a year [...] When I asked about the Haab',21 Bob said that it did not come into existence until the end of the 4th Baktun [...]
[...] only 360 days in a year at this time, for the 5-day month of Uayeb was not added until [...] the end of the 6th Baktun.

21 The civil calendar, originally 360 days.
It is odd how in all these years this information never reached the public. But anyway, here's when the Long Count would start based on the input from "Bob" and in consideration to 365.25 d/y in the last switch:
We have 4*144,000/260 + 2*144,000/360 + the remaining 7*144,000/365.25
That's 2215.39 + 800 + 2759.76 = 5775.15 years in total.
So counting backwards from the year 2012 CE we have 2011.95 - 5775.15 = -3763.20
(astronomical)
, 3764.20 BCE
(historical)
, i.e.
3765 BCE
Note: You never round down when dealing with years. You always round up to the next ordinal number, no matter if CE or BCE. Generally speaking, this means that not taking decimals (or rather months and days) into account can give you a margin of error up to +/-1 year, depending if it is CE or BCE. If dates derived from other dates, the margin of error can increase, respectively. That's probably one of the reasons why it is common practice to use the Julian Day Number system as reference.
Now let's compare the above result with the one in the paper:
Geochronology, p. 5 wrote:And we can adjust the number of years using Bob's calendar information. Shorter years early on mean more of them, so the calculated start of the Mayan Long Count was not 3113 BCE, but a bit further back… some 5773 years ago: 3761 BCE. Anyone familiar with the Christian Bible or the Hebrew calendar may recognize that year: the year Adam and Eve were created. A perfect match to the Mayan start of the human world.
Assuming the Hebrew chronology is correct and completely based on dates
Anno Mundi
(anything else would render a comparison unfeasible), then the above Mayan result of -3763.20 differs from the Hebrew date Oct 7th, 3761 BCE (=-3759.77) by
3.43 years
. daniel seems to have arrived at
exactly
3761 BCE in his Mayan calculation. It would be unreasonable to fret at a mere couple of years anyway, at least in this context stretching a several thousand year range. His result checks out.
✓
Next one:
Geochronology, p. 5 wrote:Hebrew accounts say the Great Flood occurred 1656 years after Adam. Converting that to a Long Count with the corrected calendar puts us near 2.19.16.0.0, which is about 6 years short of the end of the 3rd Baktun, the date of the Mayan flood.
1656*260 = 430,560 days. Looking at my spreadsheet:
2.19.16.0.0
.
✓
(3*144000-430560)/260 =
5.54 years
.
✓
A better calculation would have been to just determine the year of the end of the 3rd Baktun:
Start of the Long Count was -3763.20 + 3*144000/260 = -2101.67
(astronomical)
, 2102.67 BCE
(historical)
, i.e.
2103 BCE
The equivalent in Hebrew Chronology would be -3759.77 + 1656 = -2103.77
(astronomical)
, -2104.77 BCE
(historical)
, i.e.
2105 BCE
So the difference is actually only
2.10 years
!
FYI: The 1656 AM (=Anno Mundi) for the Great Flood were derived as follows:
(Excerpt from page 11 of Edgar Frank's Talmudic and Rabbinical Chronology: The System of Counting Years in Jewish Literature
Next one:
Geochronology, p. 5 wrote:The adjusted date for the Hebrew Exodus from Egypt is about 1550 BC [...] The end of the 4th Baktun was 1548 BCE.
Start of the Long Count was -3763.20 + 4*144000/260 = -1547.82
(astronomical)
, 1548.82 BCE
(historical)
, i.e.
1549 BCE
✓
That's also the date of the 1st switch from 260 days to 360 days, cf. daniel's first quote above.
So the 2nd switch from 360 days to 365.25 took place in -1547.82+(2*144000)/360 = -747.82
(astronomical)
, 748.82 BCE
(historical)
, i.e.
749 BCE
Let's compare:
Geochronology, p. 16 wrote:The early calendar was 260 days/year, and the final switch to 365 took place in 749 BC
That's another check.
✓
(Though I would have expected daniel to use the year of the
astronomical date
(748 BCE), as he has previously done, cf. his use of 3113 BCE and 1548 BCE, instead of 3114 BCE and 1549 BCE.)
Here is an overview if you need one:
(European notation, so commas and points are switched)
Ok, so far so good. Now on to the dates about Atlantis' destructions:
Geochronology, p. 16 wrote:We already know the correlation is off by approximately 10:1, we can estimate that the 1st destruction of Atlantis was no more than 5000 BCE, and the 2nd no more than 2800 BCE, based on Cayce's information. [...] So if we take the pre-749 BC years and adjust,

(5000-749) x 260 / 365 = 3026

years past 749 BC, making the 5000 BCE date on our corrected calendar to be around

3775 BCE

. And right there, at 3761 BCE, we have the start of the Mayan and Hebrew calendars, defining the creation of man.
Here is where my calculation differs. First off, I want to note that the calculation (in red) does not include the leap years but the result does, so maybe daniel omitted it for better reading or just forgot about it. No big deal since the result is correct.
What
is
a big deal, however, is the use of 260 and 365 in the wrong order. Remember his second quote above:
Shorter years early on mean

more

of them
. In this case, more than 4251 years (=5000-749). But 3026 is not more, it is less! So it should be (5000-749)*365.25/260 = 5971.84 years. But that's not all. Looking at daniel's calculation you would think that in the past 5000 years there was only one switch from 260 d/y straight to the 365.25 d/y. Not the case, so let's include both switches: 800*365.25/360 = 811.67 years and (5000-800-749)*365.25/260 = 4848.00 years.
So we have our 1st destruction of Atlantis in -749 -811.67 -4848.00 = 6408.67 BCE
(historical)
, i.e.
6409 BCE
Comparing the date with 3761 BCE and 3765 BCE we see that it does

NOT

indicate a temporal corellation to the Hebrew and Mayan start of the human race!
(At least not based on
this
data, i.e. Cayce's information.)
X
Last one:
Geochronology, p. 16 wrote:If we apply the same logic to the 2800 BCE date, we end up at 2209 BCE, corrected calendar, with the Biblical Flood sitting at 2105 BCE, a very close match.
(2800-800-749)*365.25/260 = 1757.42 years
-749 -811.67 -1757.42 = 3318.09 BCE
(historical)
, i.e.
3319 BCE
X
-----------------------------------------------------------------
Edit:
I did some minor fixing and made some formal changes to make it an easier read.
And I want to say that although the Atlantis correlation based on Cayce's information turned out to be incorrect,
it is still a

major breakthrough

to have actually found valid correlations between the Mayan and Hebrew dates
- which adds credibility to both of them!
Geochronology, p. 5 wrote:Almost a 6,000 year period of history and the stories of the Deluge and Exodus match up with their Mayan equivalents to within 6 years? I'm sure that must be "coincidence"…
To be more precise it would be a period of 5775.15 years with a deviation of only 3.43 years, in the other two cases
even less
! And just in case you don't see it, let me point it out: This is a deviation of
less
than 0.1%. Or in other words
a congruence of

over

99.9%!!